Jax: The Mischievous Star of The Amazing Digital Circus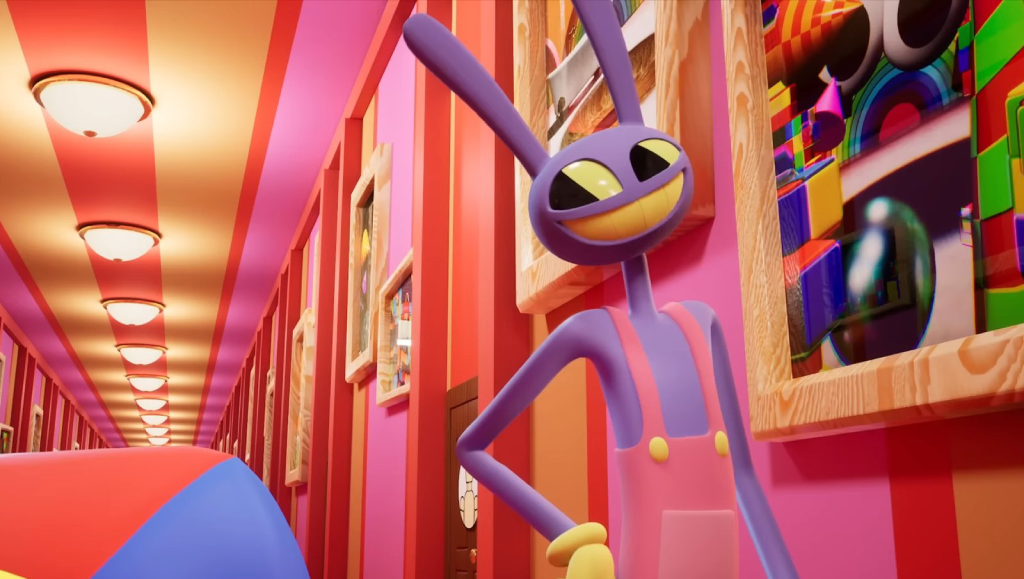 Jax is one of the two tritagonists (alongside Ragatha) of The Amazing Digital Circus. He is voiced by Michael Kovach. Jax is a mischievous, laidback, calm, sassy, impulsive, egotistical, and brazenly condescending individual. He rarely shows any empathy or remorse for those around him. Despite his dismissive attitude towards serious matters, he has a love for seeing funny things happen to people.
Jax appears as a purple-colored cartoon rabbit with long purple ears on top of his head. His design evokes the look of early cartoon characters, known as "rubber hose" characters. He has black eyes with square pupils, and his sclerae and teeth are yellow. Jax usually has flat-shaped teeth, but they appear sharp and jagged when his mouth is opened, sometimes for comedic effect.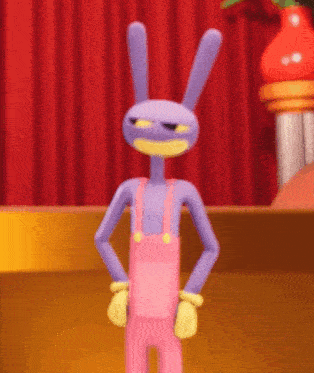 He wears fuchsia-colored overalls with yellow gloves. His overalls have yellow buttons and a single rectangular pocket on the front.
Jax's personality
Jax's personality can be described as mischievous, laidback, calm, sassy, impulsive, egotistical, and brazenly condescending. He rarely shows empathy or remorse for others and is indifferent to his imprisonment within the Digital Circus. He dismisses serious matters and enjoys seeing funny things happen to people.
Jax's lack of care for others is evident in his interactions with Gangle and Kinger. He maliciously steps on Gangle's broken comedy mask and throws a bowling ball at Kinger and Gangle for his own purposes. He pays little attention to the opinions of others and does not concern himself with the group's consensus.
Despite his occasional impulsive behavior, Jax generally maintains a calm and composed demeanor. However, his flattery is often insincere and can border on insults.
Biography
Jax is first introduced in the opening song of The Amazing Digital Circus. He interacts with Pomni, questioning whether she is an NPC or a "New Sucker." Jax explains to Pomni that there is no way to leave the Digital Circus and mentions that Kinger has been there the longest.
Throughout the pilot episode, Jax shows little concern for the events unfolding around him. He brushes off Zooble getting stolen by the Gloinks and suggests getting something to eat instead. He pairs himself up with Ragatha and Pomni to check on Kaufmo, while Gangle and Kinger go to retrieve Zooble.
Jax's selfish nature becomes apparent when he only takes action against the Gloinks when they begin to pester him. Even when accused by the Gloink Queen of finding the events dumb and weird, Jax's primary concern is his own well-being.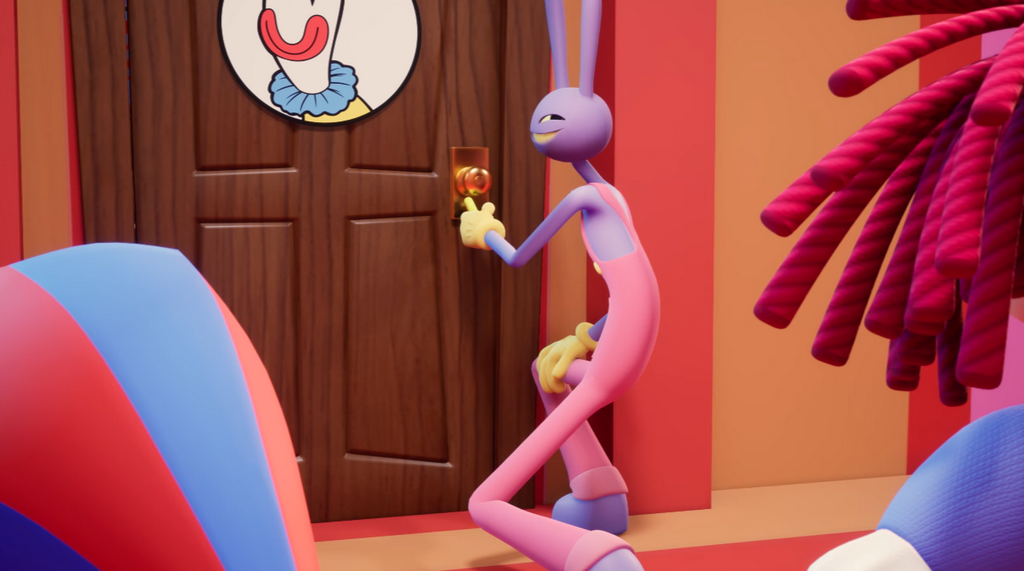 In one scene, Jax unlocks Kaufmo's door with a key he possesses, leaving Ragatha and Pomni behind. Later on, Jax encounters Gangle and Kinger near "The Zooble Hole." He throws a bowling ball at them, causing them to tumble down into the hole. Jax jumps after them, and they find themselves in the nest of the Gloink Queen. Jax antagonizes the Gloink Queen until they spot Zooble, who asks for their help.
To everyone's surprise, Jax declares that he no longer wants to help Zooble. Gangle and Kinger decide through a game of rock-paper-scissors who will go with Gangle to rescue Zooble. As they try to escape, Kaufmo suddenly attacks the Gloink Queen, allowing Jax, Zooble, Kinger, and Gangle to leave the nest.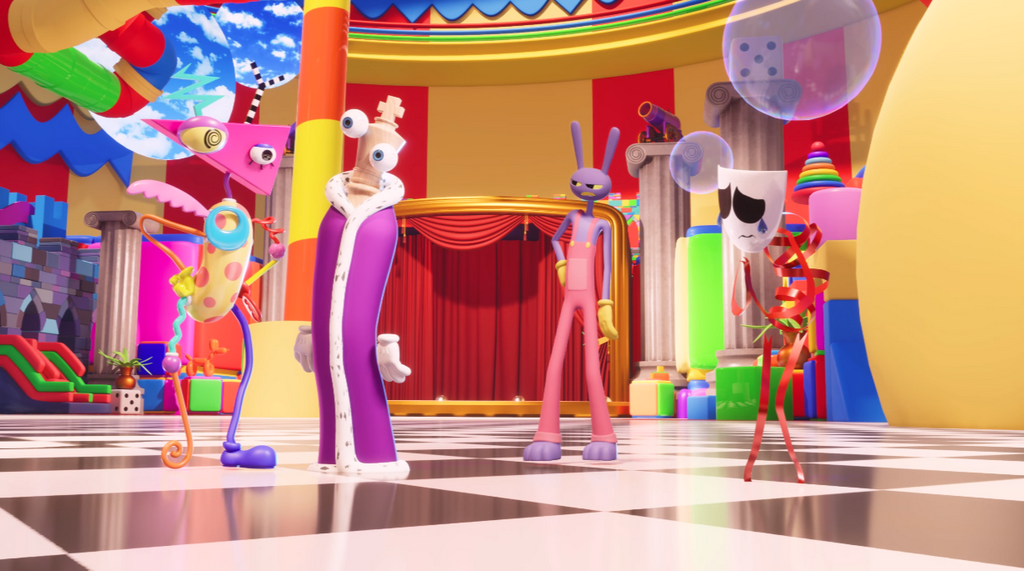 In later scenes, Jax can be seen enjoying the digital feast with the other performers of The Amazing Digital Circus.
Trivia
According to Gooseworx, the creator of The Amazing Digital Circus, Jax is her favorite character, referring to him as an "awful boye."
Jax's voice actor, Michael Kovach, has voiced other characters across different web series produced by Glitch Productions.
Jax is known for his highly impulsive and jerk-like behavior, as described by Gooseworx.
Jax and Caine are the only characters in the circus to break the Fourth Wall, with Jax staring directly at the camera in one scene.
There is a theory that Jax entered the Digital Circus at the age of fourteen, but this has been confirmed as untrue.
Jax is shown unlocking Kaufmo's room, although every other door in the hallway does not have a keyhole.
Jax, the mischievous and egotistical character of The Amazing Digital Circus, brings his own unique flair to the show. With his laidback and sassy personality, Jax adds a touch of humor and unpredictability to the storyline. While he may lack empathy for others, his actions and interactions with the other characters create an engaging dynamic within the circus.
As the story of The Amazing Digital Circus unfolds, it will be interesting to see how Jax's character develops and contributes to the overall narrative.